Cooking food in the kitchen is not the end, it is not bad if there is more to be gained from this food. Many people consider it a waste to discard some food while cooking. By adopting a few tricks you can use the rest of the food too. Today's article will tell you how to get more from Kitchen Food.
Perhaps you're throwing away leftovers for lack of proper sense, even though you have doubts. These are undoubtedly food wastages. Experts have shared some important tips to avoid this. For example, if you know how to make a smoothie without a blender, then you will probably save some money, right?
10 Tips And Tricks To Get The Most Out Of Your Kitchen Food: 
You must be searching for tricks to save leftover kitchen food. So now you will know about the top 10 tried and tested tips that chefs always follow. Everybody should follow these to avoid the waste of food and ensure their best usage. 
Read a recipe that you want to cook. Any recipe calls for the moderate usage of each ingredient. Knowing the correct quantity means that there is very little chance of wasting extra items. Some recipes even tell how to use leftovers. Sometimes they are used for beautiful decoration. So be sure to follow a recipe so that the ingredients don't get wasted.
Use the right kitchen tools
Using the right equipment for kitchen food can reduce waste to a great extent. Imagine you are cutting vegetables using a blunt knife. It will unnecessarily destroy food fibres because it cuts poorly. If you use a sharp knife instead, cutting the vegetables properly will reduce wastage. Use the right things for the right job in the kitchen. Do not use tools designed for one job for unique tasks.
Use leftover fats for veggies
If there is any fat left after cooking the meat, do not throw it away and use it for something else. Many people don't like to eat the fat inside the meat, but you definitely don't want to throw it away. When cooking vegetables, use the remaining fat, it will enhance the flavor of the food. Also, eating vegetables with fat is considered healthy. Most chefs use this technique to enhance the taste of food.
Keep extra fruit in the smoothies
Are there any fruits left over after meals that might go to waste? Make some plans now to make the best use of them. Put all the extra fruits into smoothies and chop. Then store them in the fridge. You can increase the taste of a sandwich a hundred times with these while making sandwiches.
If there is any extra meat left over after cooking, refrigerate it as soon as possible. Wrap the meat tightly in polythene and refrigerate until ready to cook. But for those who don't have a fridge at home, there are some ways to preserve meat. Baste the meat every 6 hours to kill the decaying material. Apart from fat, meat can also be preserved by applying salt and turmeric. It keeps the meat good for a few days.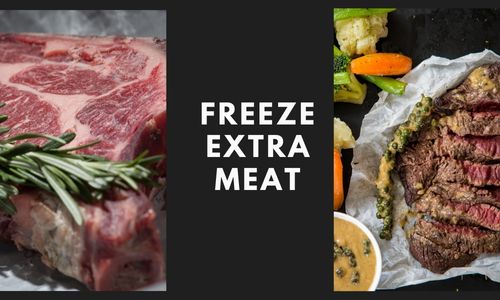 You can preserve vegetables with some tricks to prevent them from rotting. Never wash them with water before storing them. Place paper towels in a container and leave them in as dry a place as possible. However, some vegetables should not be kept in the refrigerator. They hold up well enough in cooler weather outside.
Keep cooked items in deep freeze
Some leftover food after eating often worries people. Some people store food in the normal part of the refrigerator for 3/4 days. Cooked food is likely to spoil if stored in normal portions for long periods. Therefore, store extra food in the deep freezer until you eat it again. It will keep the food completely fresh. It will taste like freshly cooked when heated.
Finish the meal before the expiration date
Every packaged food has an expiration date. Many people do not have time to pay attention to it in the busyness of work. Finish food that is close to its expiration date as soon as possible. In this case, after 2/3 days, you can inquire about the expiry date of the packaged foods. It is possible to prevent food wastage. Similarly, if the egg packet is about to expire, then you can prepare some different items with the eggs.
If you do not want to waste food, make it a habit to eat vegetable peels. There are some vegetables whose peels are already eaten by people. However, studies have shown that the peels of some other vegetables can be eaten. By cooking vegetable broth and frying vegetable peels, it is possible to prepare almost two items at low cost. Most importantly, peels contain a lot of vitamins that many people may not be aware of.
People buy a lot by looking at many types of vegetables while shopping. In this case, make a list before going to the market. Also, buy vegetables in small quantities. If you buy according to the list, there is no possibility of additional purchase. It saves considerable cost. If you have unknowingly bought extra vegetables, be sure to store them properly.
Final Words
After all, it can be said that much more can be obtained from kitchen food if it is handled in the right way. Food waste can be significantly reduced by reusing food scraps. Although only ten ways are discussed in this article, there are countless more tips. Even the big ones are inventing more strategies.
If you're still going through the motions where food isn't being used properly, get out now. Make some changes to the shopping, cooking and eating process. Learn to use food. Even after all these efforts, if the food is spoiled, then it can also be used as fertilizer. Hopefully, the mentioned 10 amazing tricks will be helpful enough for you and will tell you ways to reduce the cost of kitchen foods.
Read More
Bring Out The Chef In You: Try This Super-Easy Carrot Halwa Recipe
Crunchiest Tandoori Chicken Salad at Home
Food items that you can eat in Navratri fast
10 Super Foods to Prevent Cancer
How to Microwave a Pizza in Microwave Convection Oven
How to make pancakes without eggs