1st date?
Ready with loads of gift ideas for your girlfriend? Decided what to wear? Place, date, time? Sick leave application or bunking? Etc. Etc. Etc.
Thee O Lord!
A lot of things to plan and execute when it comes to the first date. But first thing is to slow down. Do not rush to make it happen. Rather experience this wonderful phase of life and the opportunity to meet her for the first time.
The first date is always special. Whether it goes a hit or not is a secondary concern but what remains memorable about it is the sheer feeling of being in love.
A little weird yet extraordinary feeling of mixed emotions. Excitement. Nervousness. Consciousness. Happiness. And of course the fear of being caught by your or her dad :p. Isn't it how you feel? The first date with your girlfriend gets you goosebumps, butterflies in the stomach, dry throat, and a faster heartbeat – Oh! What a different experience it is!
Turn this unique experience into a forever memory by making it much more special for both of you. Induce a touch of thoughtfulness to your first date. Ditch usual gifts to express your love for her and impress her with your genuineness. There are myriad ways to convey your feelings and gift her an endearing experience to cherish forever.
7 Unique Gift Ideas For Your Girlfriend On The First Date
Gift ideas are not synonymous with materialistic gifts. A gift can be an object, an experience, a feeling, or an expression that makes your significant others feel special. In this post, we will learn some unusual first-date gift ideas for a girlfriend to augment the essence of that meeting.
1.   Gift her your silent and genuine efforts
Be thoughtful and plan your first date at a place that is safe and easily accessible to her. The date in your car is a big-big NO. Choose a place with a soulful ambience to soak in a positive environment. Be there ahead of the planned time and pre-order starters of her choice. Ensure to respect her food-oriented lifestyle like vegan, vegetarian, and non-vegetarian. All these efforts would be an impeccable experiential gift for her.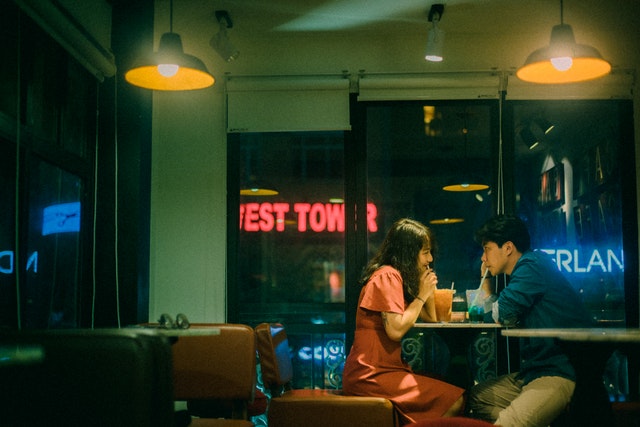 2.   The gift of equality has no match
Modern women appreciate you for being neutral. Pulling a chair for her but misbehaving with the waiter rates you 0 at chivalry. Be polite and patient not just with her but with everyone around. If she wants to pay the bills or dutch-in, let her. It is the ultimate gesture to affirm that you respect her concerns and choices.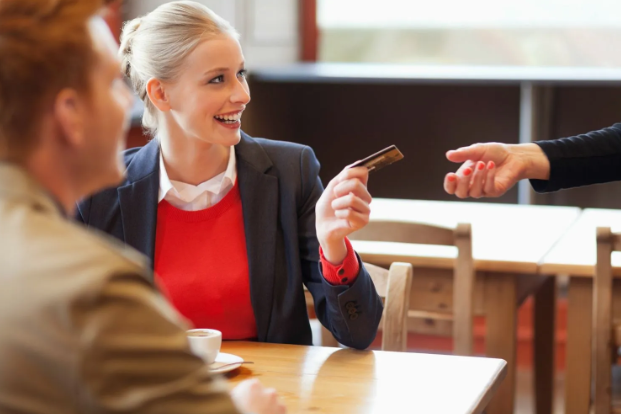 (Image Source: Glamour)
3.   Be mindfully available at the moment
You cannot gift your beloved anything better than your attentiveness. Be a good listener and build a comfortable listening space, allowing her to speak her heart out. Understand her perspective and respond mindfully to leave a lasting impression.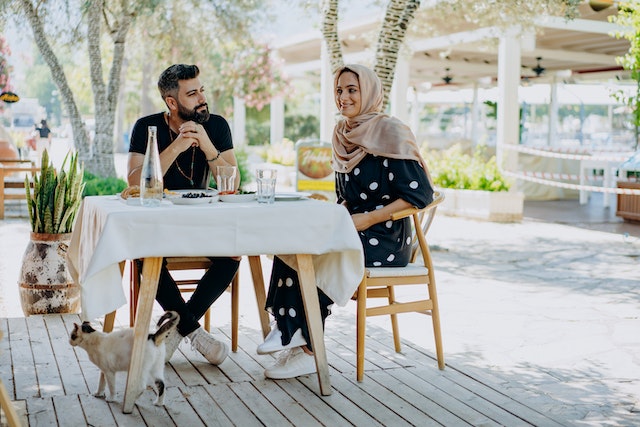 4.   Take the legacy of gifting flowers ahead but with a twist
Artificial flowers are out of option and real flowers would long for a day or two. What about gifting her flowers that she can use on regular basis? Sounds interesting, right?
Try this aesthetic box of paper soap flowers as a creative gift idea for her on your first date. These flowers will keep her hands hygienic and protected from viruses and she will remember you with a smile every time she will use them.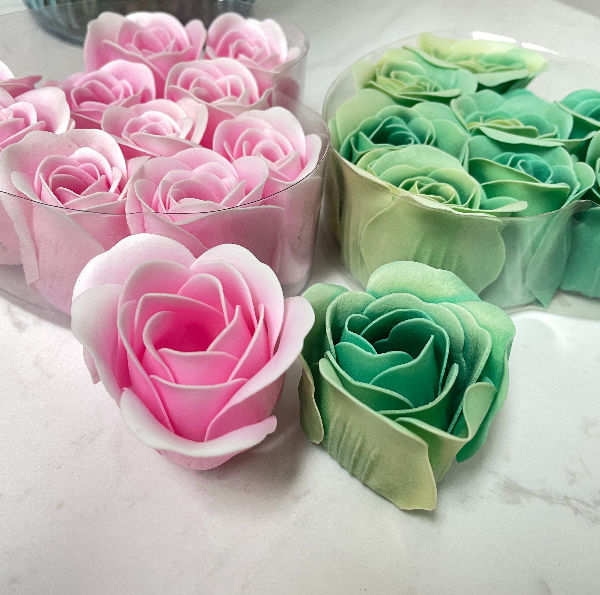 5.   Induce a touch of personalization
Amplify the meaning of a usual materialistic gift by adding a personal dash to it. Explore personalized gift ideas for your girlfriend and curate a thoughtful present for her. You can pick a classy personalized necklace customized with her initial. Other adorable options for a personalized gift idea for her can be a crystal keychain, pen, bottle, or handbag.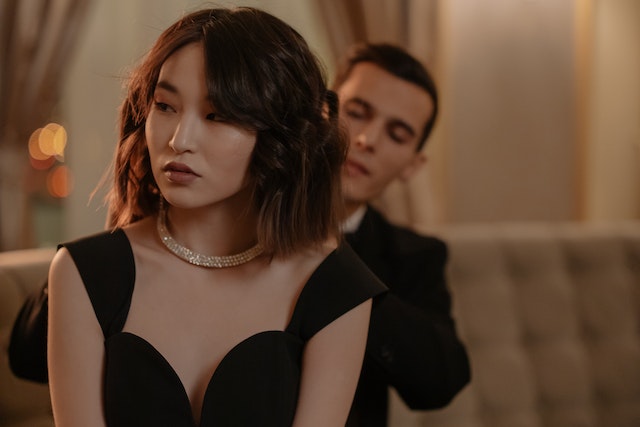 6.   Chocolates are the sure-shot gift
Chocolate is the universal language of love. Age is not a bar when it comes to chocolate bars. Get her a pack of handmade chocolates as they are just not delicious but prepared with love. Gourmet chocolates are aesthetically pleasing and super delicious. Just the best gift to win her heart.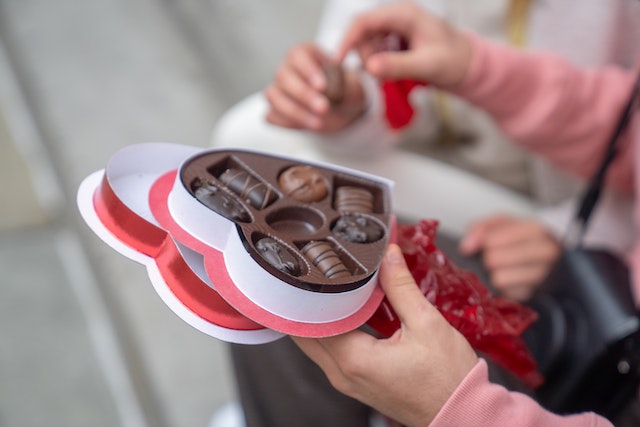 7.   Musical treat speaks volume
If you are in a dilemma of what you should gift her on the first date, remember that music is love and vice-versa. Musical gifts such as SAREGAMA Carvaan, an AI-enabled Bluetooth speaker, or a subscription to her favorite musical app will make you her favorite person on the planet. Music comprises love tunes, and gifting music to someone special is next-level. This is an out-of-cliche gift idea for your girlfriend that she might have least expected.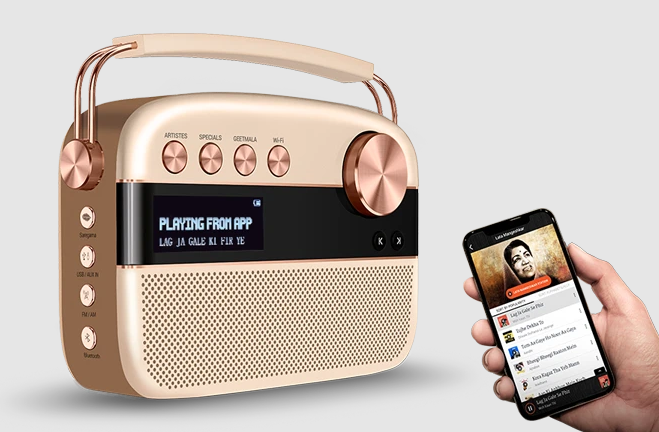 (Image Source: Saregama)
Go out of the league to surprise her and make her feel all more special on your first date with these excellent gift ideas. It is not always about high-end gifts to impress your partner, even a small gesture means a lot when you actually mean it.
Try it yourself and share your experience with us.
Bonus tips: Dress well and be yourself – rest everything will fall into place. 
Author Bio: Ekta Goyal is a senior gifting consultant and research analyst at Clickokart with a total experience of 9+ years.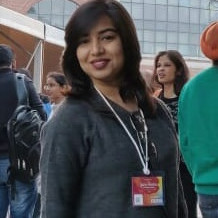 Read More
Best Hindi Songs to Dedicate to Your Girlfriend
How to propose a girl on Instagram