Teachers! A simple word and a common profession with meaning as deep as an ocean bed.
Teachers play an integral role in our lives. They build humans, nations, and the future. The importance of a good teacher in everyone's life is undeniable. Great teachers develop great personalities who inspire others. Best in case here are three valiant warriors of all times – Bhishma Pitamah, Karna, and Arjun. As you read these names you must have visualized these characters from BR Chopra's Mahabharata show (as we know them all). Didn't you? These characters have had a profound impact on us right since our childhood.
However, if we dig deep, we will realize that Guru Parshuram and Guru Dronacharya had made them what they were. And that's the impact of a good teacher on us. India is a fortunate nation that gave birth to illustrious teachers. Chanakya, Swami Vivekananda, Rabindra Nath Tagore, Sarvepalli Radhakrishanan, Savitri Phule, and APJ Abdul Kalam are some of the eminent teachers who have contributed significantly to the development of individuals and the nation akin.
Teachers motivate us to become the best version of ourselves and remain relevant on global fronts. Throughout our lives, teachers play multiple roles in moulding us in the right direction. Let us explore.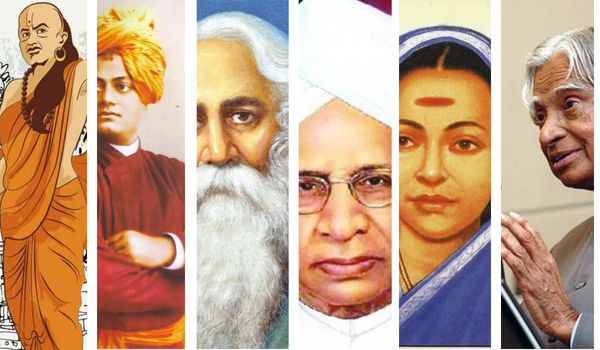 The role of a teacher in different phases of life
1. Teachers as a guide
They have the inherited power to analyze students' strengths and weaknesses. Just 2-3 conversation sessions and teachers will know you in and out. They guide apprentices to develop crucial skills by converting their weaknesses into strengths. It empowers students to work towards their goals in their best capacity.
2. Teachers as role models
Teachers are dynamic personalities who inspire their students in myriad ways. They possess significant characteristics like compassion, empathy, patience, and determination. All these attributes allow them to make strong connections with their learners. As role models, teachers inspire students to become positive and responsible citizens who are sensitive towards society.
3. Teachers as a friend
Teachers become friends with students in no time. Just like we share all the positives and negatives of our lives comfortably with our friends, we can be truthful to our teachers as well. Teachers create an unbiased and non-judgemental listening space for apprentices, allowing them to share their achievements and pain points.
Moving forward, we will underline why these roles are important in every life. The importance of a good teacher in laying the foundation for a happy and successful student is imperative. Let us deep dive to know.
Importance of a good teacher in developing dynamic personalities
1. Instilling confidence
A good teacher prepares students for the best and the worst as well. With the right guidance and constant support, a mentor boosts the confidence of a learner. They teach them to raise questions, retry when they fail, and take accountability for their mistakes. This is the best practice to instil confidence in young learners.
2. Providing education and knowledge
Education is the most powerful tool a person carries. This mighty source of knowledge develops theoretical and cognitive skills in apprentices. Education empowers them to embrace new technology, learn innovative concepts, and build problem-solving abilities. It all prepares them for future opportunities and challenges.
3. Offering life-changing experiences
Teachers go the extra mile to make a difference in the lives of their students. Their unbiased teaching approach toward learners brings positive changes in everyone's life.
Case in point: Malappuram-based teacher Abdul Malik used to swim through a muddy river with clothes and lunch to reach the class on time. However, he could take a bus and cover the same distance in 3 hours but he chose to swim.
It is sheer dedication to impart quality education among students despite the challenges a teacher faces regularly.
4. Building progressive mindsets
The importance of a good teacher is recognized when he/she effectively builds strong-headed students who construe things from a wider spectrum. A progressive mindset is a gift bestowed upon learners from optimistic and future-driven mentors. It matters a lot when it comes to adapting to the constantly changing environment both inside and outside. We all know change is the only constant and the one who fits in the altering environment survives.
5. Teaching beyond academic lessons
An idol teacher teaches life lessons to students that help them overcome their real-life challenges. Going beyond academic knowledge and imbibing concepts like financial literacy, self-independence, discipline, curiosity to explore new things, and zeal for constant learning – are equally important lessons that only a good mentor can teach.
Concluding thoughts
All the aforementioned points weigh the importance of a good teacher in our lives. Great teachers develop happy learners and productive minds who are capable of bringing positive changes to the world. They have the courage to uplift the underprivileged section of society and hence contribute significantly to national development.
Teacher's day is the perfect occasion to honor all the great teachers. Let us do that meaningfully by planning some amazing Teacher's day celebrations ideas. Giving a personalized gift, dedicating performances, arranging a surprise visit, etc. could be some fun-tastic options to elate your favorite teachers this Teacher's Day. After all, they deserve it all for their unconditional effort.
Read More
Everything About Teacher's Day celebration
Top 7 Bollywood songs dedicated to teacher's day