Most of us love the melodic sound of jewellery pieces, especially bangles. We see our mothers and sisters dressing up well, pairing matching bangles to complete their look. Bangles are now used as fashion accessories to match this elegance and charm. Pairing this accessory with your outfits on special occasions beautifully enhances your feminine grace and beauty.
So, why don't you try and create a statement look with an exquisite collection of rose gold bangles? Check them out here. 
Some Handpicked Rose Gold Bangles for Timeless Elegance
Worry not if you have invested much time in finding the rose gold bangles and still couldn't find one! Have a look at some of our best picks and choose your favourite: 
14kt Yellow-Rose Gold Bangle with Charm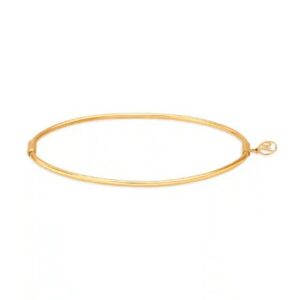 Nothing can be simpler and more minimal than this Yellow-Rose Gold Bangle in a purity of 14 Karat gold. Wearing it in your everyday look reflects your subtle styling. The warmth of yellow gold and blush hues of rose gold make it a mesmerising piece of jewellery. This bangle has a timeless charm and adds sophisticated elegance to your outfit. You can adorn it joyfully and create your style to make it more appealing or cute.
Wear it with layered bracelets of similar complementary colours for a trendier look. It perfectly goes well for your day and night look, making for an ideal accessory at an evening party.
14kt Rose Gold Solar Eclipse Bangle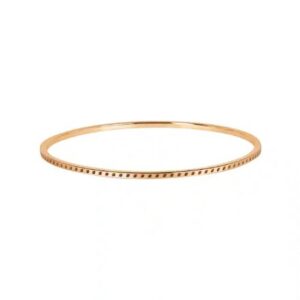 With a purity of 14-karat gold, this rose gold solar eclipse bangle is the epitome of classic simplicity and alluring beauty. With a similar pattern all over, this rose gold bangle is a minimalist piece of jewellery to wear a gorgeous look every day. The amusing hues of rose gold catch your eyes and redefine simple and elegant fashion.
You can style this with your casual outfits or, to be more specific, wear your favourite blue jeans and white T-shirts for a smart, trendy look. Let this rose gold bangle speak of your style.
Both rose gold bangles and yellow gold bangles steal the charm at an evening event. Before you ask for more, we have already listed gold and diamond bangles here: 
18kt Yellow Gold & Diamond Bangle for The Resilient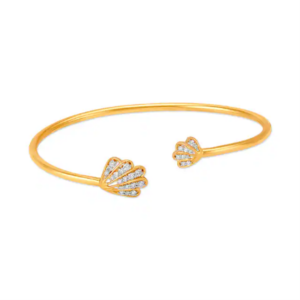 Do you love to turn heads with your style? If yes, this must be a perfect addition to your bling for an appealing look at the parties. Adorned with sparkly diamonds, this elegant yellow-gold bangle beautifully complements your outfit. Its lustrous shine perfectly matches the party vibes. Style it with a sequined black dress to enhance its grace and beauty. 
14kt Yellow Gold Bangle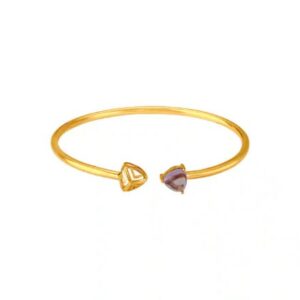 Whether heading up for a party or needing to attend a formal event, this timeless and versatile bangle is sure to make you the star of the evening. Featuring a stone setting, it subtly adds sophistication to your ensembles. For a minimalist look, you can pair it with matching gold or diamond earrings, creating an aesthetic look.
Do you love gold bangles and other jewellery pieces in your collection? Choose one of our above-listed accessories. If you have scrolled through multiple collections, explore the extensive collection of rose gold bangles at Mia by Tanishq.
They have everything from rose gold bangles to beautiful diamond earrings, rings, nose pins, gold chains, and bracelets. So, what's holding you back? Visit their website now!