The function should never end up trumping the need for fashionable eyewear, especially since the introduction of fresh designs. Eyeglasses are the new norm, becoming the next object of trendy fashion. The transparent lenses are usually assumed to have a prescription, but many wearers have simply started wearing them because of the 'academic aesthetic.' From daily-wear corrective glasses to no-prescription computer glasses, eyeglasses have become a popular way to spruce up one's look and reflect their fashion taste very subtly. Eyeglasses have quickly evolved from purely functional accessories to fashionable ones. 
The best way to express your stylish persona is to incorporate your preferences into your eyeglasses. If you are still stuck on old designs and are looking for a style upgrade, endless designs and frames are waiting for you. Donning these stylish eyeglasses at work will make you look more sophisticated, sharp, and put together. The first impression is key, and when the onlooker is able to see a touch of your personality in your stylish eyeglasses, they will be compelled to remember you. Hence, let us take a look at some smart and colourful eyeglasses that can help you reflect your stylish persona.
Reinvented in Red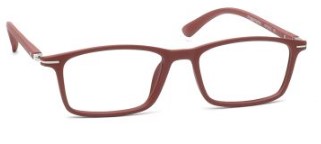 Red eyeglasses are a welcome departure from the bulky black frames that can often overwhelm the face and age you several years. You can trade your black frames for a softer red which accentuates your features and adds a youthful touch to your face. The frames on these eyeglasses are rectangle, which makes them best suited for round faces. The angular contrast of the rectangle eyeglasses against a round face adds some dimension and sharpness to the face.
The Eccentric Chic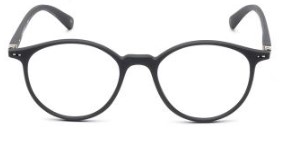 The round eyeglasses are the eccentric's best companion. These glasses are not usually donned by most people, but when styled right, they can become the first thing people remember about you. The vintage touch of these round eyeglasses makes you look chic, classy, and sophisticated all at once. The frames are in black, and the round frames accentuate the features of the face effortlessly when paired with the ideal face shape. These spectacles are best suited to angular faces since contrast is vital for a good eyewear match.
Preppy in Purple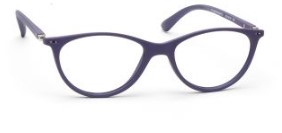 Cateye sunglasses have been known across the decades as a reliable choice for most first-time wearers. The style is approachable, sharp, and elegant. It gives you a classy aura that cannot be matched by a standard design. When you don these purple cateye spectacles, you immediately elevate your look to a new level. The upswept look makes you look brighter, smarter, and sharper with little effort, aided by the playful pop of colour added by the purple hue.
The Slim Classic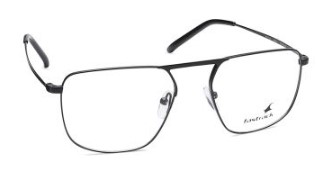 Aviator sunglasses are known to be a classic, but one might be surprised to know that the stylish silhouette of these glasses has been reimagined as daily-wear eyeglasses as well. These eyeglasses in black are meant for the experimental and stand-outs, where the frame shape is bound to make every onlooker do a double-take. Inspired by the Aviator, these large lenses are extremely comfortable, much like their sunglass counterparts. The lightweight design is also great for those who dislike heavy frames and have an active lifestyle that requires durable eyewear.
Bold Blues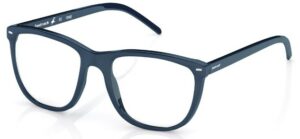 Exploring new designs for eyeglasses will lead you to stunning pieces that can match every season, much like these square-rimmed spectacles in blue. These eyeglasses can be a great addition to your daily look because of how effortlessly cool and enigmatic they are. The colour is a unique shade of blue, which is rare to come across in eyewear, a shade that can match every aesthetic. The large square lenses maximize functionality, making them comfortable and stylish at once. 
Eyeglasses are meant to make your life easier, and this selection of glasses is meant to make it stylish as well. You can go about your day and deadlines in style with these trusted eyeglasses in quirky shades and frames. If you are looking to explore more options for eyeglasses, you can head over to Fastrack and browse their range of prescription and computer eyeglasses as they offer great prices for premium eyewear which will up your fashion quotient like never before.