Every year ICAI releases the result of CA Foundation exams within two months from the last exam. As the CA Foundation Dec 2020 exams are already finished, ICAI will soon release the CA Foundation Dec 2020 exam results. However, there is no confirmed news if ICAI will release Dec 2020 exam results earlier or release them with Jan 2021 exam results.
Want the latest updates on the CA Foundation Result Date? Subscribe to CA Wizard to get the latest information. CA Wizard is the best site where you can find all the important information about the CA course. 
Important Dates CA Foundation & Results 
CA Foundation Exams Nov 2020 (Rescheduled to Dec 2020)
| | |
| --- | --- |
| Paper 1 | 13th Dec 2020 (8th Dec 2020 exam postponed) |
| Paper 2 | 10th Dec 2020 |
| Paper 3 | 12th Dec 2020 |
| Paper 4 | 14th Dec 2020 |
CA Foundation Exams Nov 2020 for opt-out students
| | |
| --- | --- |
| Paper 1 | 21st Jan 2021 |
| Paper 2 | 23rd Dec 2021 |
| Paper 3 | 25th Dec 2021 |
| Paper 4 | 28th Dec 2021 |
CA Foundation Dec 2020 Result Date
Expected in Feb/Mar 2021
Steps to Check CA Foundation Result 2020
There are three options available to check your CA Foundation Exam Result—Online, SMS, Email.
How to download CA Foundation Result online?
The results of the CA Foundation are available on the official ICAI websites. Here are the links where you see your results: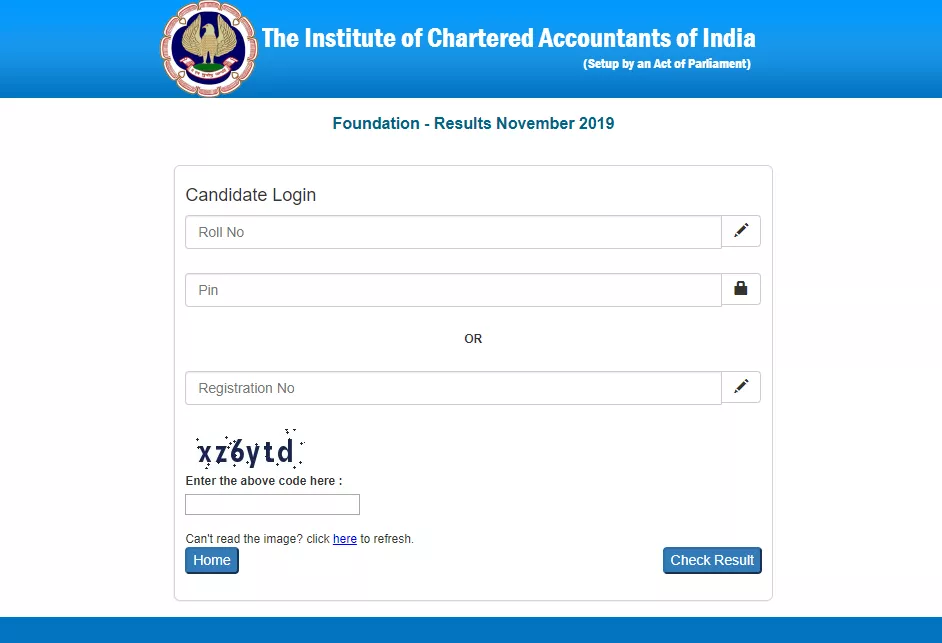 When you open the website, the results tab will be available. You have to click on the CA Foundation Results to reach a new window (like shown in the image). You have to enter your roll no. and PIN or registration no. Then type the captcha code and get your result. You can download an online copy or take a print out. 
How to see your CA Foundation Result via SMS?
To check your result through the SMS option, type 'CAFND(space)Roll Number' and send it to 58888. Your result will come in your SMS within a few minutes.
How to get your CA Foundation Result on Email?
To get your result by email, you have to register on the ICAI exam website (icaiexam.icai.org). Login to your account. Make sure you verify your email id. Click on email registration, and you will receive your result in your email. 
Details Given in CA Foundation Result
Roll Number

Candidate Name

Paper number

Subject Name

Maximum marks

Minimum marks

Marks obtained

Result Status

Verification or Inspection of CA Foundation Answer Copies
Students who believe the marks awarded to them are less have an option to apply for verification or inspection of their answer copies.
In the verification of your answer copies, ICAI will check
If any answer remains unevaluated, 

If there is an error in the total marks on the cover page, 

If the marks given inside the answer copy are correctly carried forward on the cover page. 
In the inspection of answer copies, your answer sheets are sent to you via post. You can see what answers you have written and what were expected (with the answer key).
The application process for verification or inspection of answer copies is very simple. ICAI opens an online window on your dashboard for one month. If you want to apply, you can submit a handwritten application with the requisite fee online. (Rs. 100 for Verification and Rs. 500 for Inspection).
The CA Foundation Results after verification are announced within 6-8 weeks. ICAI refunds the verification fee if your marks are changed after verification.
Statement of Marks for CA Foundation Result
The main mark sheet that shows your results is called Statement of Marks. All the students who clear the CA Foundation exams receive the Statement of Marks from ICAI. It is sent via post at your registered address within 4-5 weeks. If there is a mistake in your Statement of Marks or if you haven't received it within the stipulated time, then you should send an email to ICAI at
Rank Certificate for CA Foundation Result
Rank certificates are given to the top 50 performers of the CA Foundation. Students who score marks above 60% and clear the CA Foundation exam in a single attempt are only named under the top 50.
CA Foundation Result Merit List
ICAI officially releases the list of top 50 students after CA Foundation 2020 is declared. You can see the merit list on their website. The tab of the CA Foundation Merit List 2020 is given just below the results. To view the list, you will first have to submit your roll number and captcha code. 
The merit list of 2020 exams will be released when the CA Foundation Result Dec 2020 will be declared.
CA Foundation Toppers
You can see the CA Foundation 2020 Toppers after ICAI declares the CA Foundation Result 2020.
November 2019 Toppers 
Particulars
AIR – 1
AIR – 2
AIR – 3
Name

Saina Agrawal

Sameer,

Aksha Mohammad.Faruk Memon

Shubham Bhagwan Taparia

City

Kalahandi

Rohtak, Ahmedabad

Satara

Marks

365

362

361

Percentage

91.25 %

90.50%

90.25%
Pass Percentage of CA Foundation Result 2020
Experts are expecting the pass percentage of CA Foundation Result Dec 2020 will be stable or increase as compared to the last year's pass percentage. Because many students appearing in the Dec 2020 exams were from the May 2020 batch, they had much more time for exam preparation, so more students have a chance of passing the exams.
CA Foundation Pass Percentage November 2019
| | | | |
| --- | --- | --- | --- |
| Gender | Male | Female | Total |
| Appeared | 48959 | 38125 | 87084 |
| Passed | 16300 | 14263 | 30563 |
| Pass Percentage | 33.29% | 37.41% | 35.10% |
What after clearing CA Foundation Exams?
The next level of CA Course after CA Foundation is the CA Intermediate level. As soon as your CA Foundation Result is declared and you pass the exams, you should now focus on CA Intermediate preparation. For better guidance, you should join one of the best CA Institutes. 
CA Foundation Result FAQs
What is the CA Foundation Result Date 2020?
ICAI has not announced any result date officially. It is expected to be out by late Feb or Mar 2021. Visit CA Wizard for regular updates on the result date. 
What are the passing criteria for CA Foundation exams?
ICAI will declare you as passed in the CA Foundation exams if you score 40% marks in every subject and get an aggregate of 50% or higher.
How to check your CA Foundation Result 2020 if you don't remember your Login credentials?
If you have enabled the email registration option on your ICAI exam website account, you will get your result on the email. Else you can contact any of the ICAI helpline numbers to ask for further process.