Hakuna mimosa…it's brunch time! One of the many reasons why we love the summer season – is the long-awaited invites for hearty get-togethers over burritos and waffles. What makes brunch even more special is the adrenaline rush to visit cute cafes around the town, fill your gallery with wholesome snapshots, pick a bunch of flowers or so for your besties and find that perfect dress, of course!
After scouring the internet to search for absolute cottage-core dresses or trying to coordinate the perfect outfit with your girl pals over that cute Pinterest outfit. Do you still find yourself wondering – What the perfect brunch dress looks like? For us, the parameters to find just the one is simply to remember these three enchanting words: breezy, blooming and beauteous. Let's break it down for you with our roundup of long dress for women.
1. First up, florals!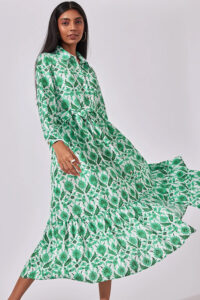 Brunches seem incomplete without the beaming sunlight, baked bread and blossoming flowers. So here's a dress to serve justice to your forever favourite – a floral maxi dress. Our Leaf Print Tiered Midi Dress comes with a functional button placket, a self-tie and the most flattering geometric floral print that adds to the charm of this silhouette.
Perfect Pairings: A pair of sleek heels in a solid hue and dainty gold earrings.
2. Darling Dainties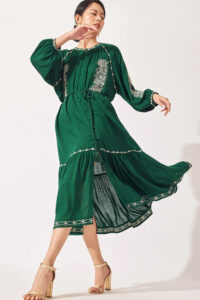 When it comes to brunches, we know how much you love setting up the table with a gingham cover, arranging the elegant cutlery, placing lovely flowers across, and the list could go on and on. Well, we know you're all about the details and that's the reason why we're talking about this dainty embroidered dress. With beautiful embroidery that defines the silhouette, our Green Floral Embroidered Dress is designed with breezy tiers and a tasseled rope belt.
Perfect Pairings: A pair of golden platform heels and gilded jewels.
3. Easy-breezy!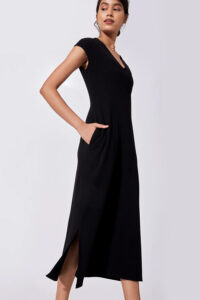 A dress you'd wish to repeat for many, many brunches. Our Orange Ruffle Tube Dress is the one that perfectly fits in your dreamy brunch setting. With ruffle detail on the bodice and tiers that flow through the bottom of the silhouette, this dress is a can't miss for the summer season.
Perfect Pairings: A pair of strappy flats in a warm hue and minimal gold add-ons.
4. Simple Elegance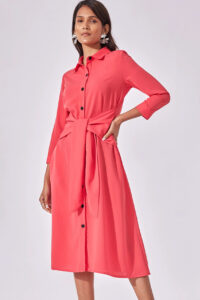 For the days when you need a 'solid' companion, we've got you an alternative that's laid-back yet adorable enough to be gram-worthy. Say hello to our Strawberry Front Tie Shirt Dress. In a picturesque hue, this shirt dress is tailored to perfection with a chic front tie.
Perfect Pairings: A pair of metallic block heels and statement silver jewels
5. Balmy Days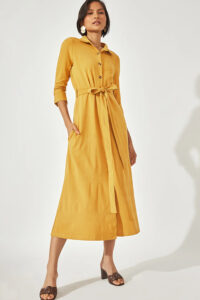 If you're not someone who's keen on wearing bright or pop hues, here's a toned-down alternative for you. Designed with sophisticated pockets and an easily detachable belt, our Mustard Longline Shirt Dress is made for the balmy days.
Perfect Pairings: A pair of floral printed heels and statement gold earrings
6. Just Effortless!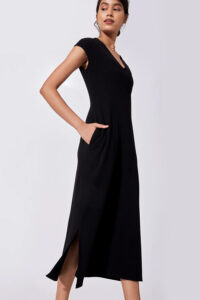 Classic never goes out of style. On days when the mood calls to be well-dressed and channeling ease at the same time, a ribbed long midi dress is our ideal choice. Our bodycon Black Ribbed Midi Dress comes with a flattering V neckline and a side slit at the bottom. The best part about this classy fit is that you can sport an elegant look, a laid-back look and even go a little experimental with fancy layers.
Perfect Pairings: A pair of classic pump heels and a dainty layered gold necklace
Dressing up for brunch is always fun. You can go for a head-to-toe vibrant look with printed ensembles or keep it all-adorable with sweet silhouettes or put-together a laid-back look with subtle accessorising.
Long dress for women is a wardrobe staple that gives us a feeling of anticipation to flaunt gorgeous looks for the summer season. Besides being the epitome of delightful brunches, it certainly makes a versatile investment too.
Browse through more brunch-perfect dresses and ensembles at The Label Life.