With the advent of Digital payment era a risk of digital payment fraud is also becoming a challenge for security and safety of your digital payment accounts like Phonepe.  Many scammers and spammers always keep finding new ways to do a fraud over Phonepe app. At prent there is a new way of scam is going on with Phonepe Payment app that is a Phonepe Fake Payment Screenshot.
Many fraud people are using Phonepe Spoof apps for generating Phonpe Spoof Screenshot which is a fake image showing phonepe successful transaction with a given amount.  People who are new to digital payment are become the victim of this new kind of fraud. These spam guys targets people who have less or little knowledge of Phonepe UPI payment. As people won't able to check whether the UPI transaction is successfully done or not they easily believe on this fake payment screenshot  from Phonepe app.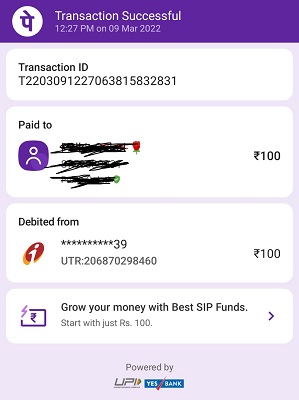 How to Avoid Phonepe Fake Payment Screenshot Scam: 
To avoid or to save yourself from fake screenshot scam of Phonepe you can follow these steps –
Don't rely on Phonepe Payment successful screenshot only, always check your Phonepe account or message alert for the amount credited to  your account.
Ask for cash payment or card payment for any business if you are dealing with a new person.
Ask him to scan your QR code instead of telling him your Phonepe account number.
If a payment is in process ask the person to give you cash because in process payment message may create issue later. Generally the delayed payments in UPI got declined by Banks.
Many people also uses Phonepe screenshot editor apps to change the existing successful Phonepe payments images to convince the people that they had done the Payment but the receivers bank has some issue.
If you are shop owner and do accept payment via phonepe you can talk to Phonepe merchant customer care team on Phonepe customer care number regarding payment security and scam.
Report the scam as soon as possible to avoid the losses.
Keep a record of whole day Phonepe Payments and Tally it at the end of the day with your Phonepe account summary.