Financial institutions have, over time, simplified their lengthy requirements to increase the accessibility of secured funding to individuals across the economic strata. Prospective borrowers can thus conveniently avail a property loan against attractive interest rates to meet their variegated financial needs. These advances, also known as loans against property, can be availed by pledging any residential or commercial property as collateral.
Nonetheless, individuals must learn about a few essential details regarding these loans for a successful application and approval. Following is a look at how to apply for a property loan, and the information that borrowers must be aware of before undertaking the process.
Details about how to avail a loan against property
Before moving to the process of how to apply for such an advance, borrowers must know in details about the following –  
Since it is a secured credit, the eligibility criteria to avail it are simple and easy to meet. While these criteria can vary from one lender to another, some of the most common requirements put forth by financial institutions are as follows:
If the borrower is a salaried individual, he/she must be between 33 and 58 years of age. For self-employed individuals, the age limit is set to be between 25 and 70 years.

He/she must be a residing Indian citizen.

Salaried applicants must also be employed with an MNC or a company in the public or private sector. If self-employed, they must present a regular and steady source of income.
Lenders might also require an individual to meet additional criteria to deem him/her eligible to avail a property.
Individuals will also need to submit a list of documents to apply for a property loan. Like eligibility criteria, the document requirements may also vary from one lender to another. However, few of the standard documents include:
Aadhaar card/PAN card

Address proof

Documents of the property about to be mortgaged

Bank account statements of 3 months for salaried individuals and 6 months for self-employed individuals
Plus, salaried applicants also need to submit their IT returns, and latest salary slips.
Apart from these, it is also crucial for borrowers to maintain a healthy credit score, which might influence the property loan interest rate and the amount that they can avail.
An important factor that borrowers must be aware of before applying for the loan is how much EMI they will be expected to pay towards loan repayment. Calculating the monthly repayment liability before making an application can allow individuals to gauge how much loan amount they can afford comfortably, and in turn, eliminate the risks of defaults in the future.
In this regard, a loan against property EMI calculator can be extremely helpful for borrowers in assessing the EMI amount most suitable for their finances. Borrowers will only need to enter details like principal amount, rate of interest and tenor to know the EMI payable against their loans through these calculators.
Select financial institutions provide pre-approved offers to borrowers that make the loan application process faster and much easier. These pre-approved offers are available for a range of financial products, including loans against property, home loans, etc. Individuals can check their pre-approved offer by providing details like their names and contact numbers.
After acquiring adequate information about the above factors, individuals can initiate loan application in the following few steps.
How to apply for a loan against property?
The process to apply for this loan is quite simple. Individuals only need to follow these steps below to apply for a property loan – 
Visit the official website of your selected lender.

Fill out the loan against property application form and submit it.

Representatives of the lender will review the application and get in touch with you within 24 hours.

Next, you can submit the required documents to the lender's representative.

If every detail is in order, the loan amount can be approved within 48 hours of applying.
The application process for such an advance is thus extremely hassle-free, with the loan amount being approved almost instantly.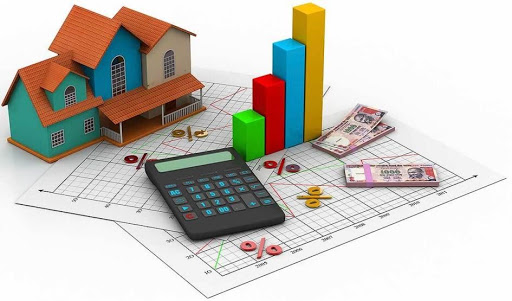 Loan against property interest rate can contribute significantly to the cost-effectiveness as the extended tenor and sizeable EMIs of these advances can affect one's repayment capacity. Also, as the loan amount is of high value, even a split-percentage increase in the lending rate can lead to substantial interest accumulation over its repayment timeline.
If we in general talk about the loan against property interest rates then there are typically 2 types available – floating and fixed rate. Depending on a borrower's preference of interest type, the interest rate can change. 
Floating rates are chargeable based on the interest rate alterations that the lending market goes through. Hence, if the market rates reduce, individuals can expect similar reduction in their rate of interest, thus leading to lower monthly installments and vice versa.
Individuals can, thus, use a loan against property to address any of their emergency financial requirements without any delay. Apart from the ease of application and instant approval, borrowers can also enjoy several other benefits if they avail this advance from reputed lenders. High loan value of up to Rs.3.5 crores, tenor flexibility of up to 20 years, low rates of interest, etc. are a few such perks that individuals can avail with a loan against property.