Trends are a thing undergoing constant changes with each passing season and year. When it comes to precious gold jewellery, investment should be made carefully. Gold rings are timeless and if they are bought keeping the right factors in mind, they can be your go-to for many decades. The best thing about gold rings is that they can look amazing both as a single ring and as a stack pack game.
Gold rings come in diverse sizes, designs and overall feel. They are meant to be worn again and again, so making sure that you buy something fitting to this factor, is essential.
Let us look at a wide range of gold rings in trendy designs from the amazing collection by Mia by Tanishq.
Mia By Tanishq Letter M 14kt Gold Alpha Ring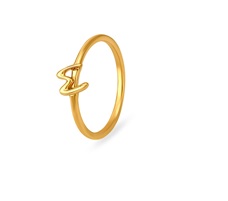 These days gold rings with initials have become a big trend in the market. This ring is suitable for someone whose name starts with the letter 'M', also it could be gifted to your mother on mother's day. This gold ring is a sweet gesture you make towards your beloved close ones. The minimal greatness is what this ring is. Create more room for your stylish clothes paired with dainty jewellery.
14kt Yellow Gold Diamond Finger Ring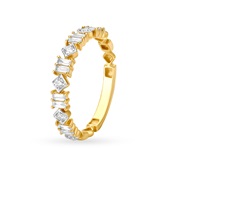 This gold ring bejeweled with dazzling diamonds is the best option for you. If you are someone who chooses to wear basic clothing, rather than going bonkers with style, this ring is made for you. Add the missing spark in your outfit and rock your outfit even if it is simple. A dazzling diamond has the power to bring out the righteous bling in your personality.
Floral-Inspired 14kt Gold Ring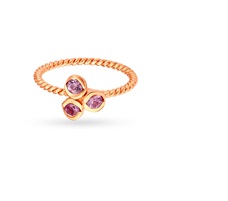 Colored gemstones set in gold ring bands are another trend stealing the spotlight these days. If your favorite color is purple, this is the perfect gold ring for you, everywhere you go, the purple floral motif will catch people's eye! Pair it with your favorite clothes that sit well in either contrast or uniformity.
Mia 14kt Yellow Gold And Diamond Finger Ring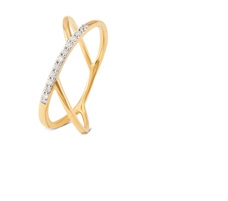 This abstract gold ring is lined with diamonds that shine bright. This ring is the epitome of the unconventional approach, Mia, by Tanishq offer in their designs. It can be paired with various fashion choices, from office attires to cool T-shirts– this sleek ring aces all fields. It is a timeless investment which will never become boring or old in your sight!
Make Your Statement with Mia by Tanishq 
When an individual puts on jewellery, gold rings, in particular, they are embracing a side of them that only shines when accessorizing is done right. With trends constantly changing, we can assure you that gold jewellery is making a comeback and is here to stay.
A sense of vintage heritage comes along with gold jewellery, they are often seen as something your grandparents would wear. But, with vintage being the new unconventional trend, gold has made its space in the market yet again, in fact, better than what it was. This is the best season to grace yourself with some gold jewellery, it also is the best time to make timeless investments.
What could be better than treating yourself with the latest and trendy jewellery while investing your hard-earned money into something that will be with you forever? It is also deemed to be passed on to future generations. In a way, you are not buying jewellery for yourself only, but also for your future children and grandchildren.
Gold jewellery is worn for the happiness of the wearer, not other people. Hence, it is always the best idea to get a gold ring that always feels new whenever you wear it, with whatever you style it with. These timeless rings showcased above are just a sneak peek at the ocean of rings Mia by Tanishq has in store for you.
Visit their official website and get your hands on some extraordinary gold rings!